Lockout Tagout Online Course
This lockout tagout training OSHA-based course will certify that you or your employees are meeting the training, inspection and record-keeping requirements set out in OSHA's Control of Hazardous Energy standard (29 CFR 1910.147). Ensure dangerous machines are completely shut off and not able to accidentally restart prior to maintenance or repair work by practicing safe Lockout/Tagout procedures. This lockout tagout basic training meets and exceeds that standards set by OSHA and regulatory bodies.
Ensure Machinery Is Safe for Maintenance by Following Proper Lockout/Tagout Procedure
In this Lockout Tagout Online Course, participants will learn:
Identify sources of hazardous energy
Describe the three different types of employees recognized in a lockout tagout program
Distinguish lockout from tagout
Explain how to perform lockout and tagout procedures
Use a group lockout device safely
Recognize exceptions to lockout and tagout requirements
Duration
The lockout tagout training course takes approximately 60 minutes to complete.
Testing
Reviews and testing will take place throughout the course. Participants must achieve a mark of 80% or higher to earn their certificate of completion. Those who do not reach the required mark will be allowed to repeat the course two additional times.
Certificate of Completion
Participants who successfully pass the lockout tagout employee training will earn a certificate of completion, which they can print out or download for their records. This certificate is valid for 3 years.
What steps are involved in the Lockout Tagout procedure?
Prepare for shutdown
Notify all affected employees
Equipment Shutdown
Isolation of system from hazardous energy
Dissipation (removal) of residual or stored energy
Lockout Tagout
Verify Isolation
Perform Maintenance or Service Activity
Remove Lockout Tagout devices
Lockout Tagout is a critical component of workplace safety. Serious injuries and accidents can occur when employees are working with powered machinery that is improperly locked tagged out.
Prevent injuries and fatalities by introducing approved procedures, training, and visuals (sign and labels)
More Information
OSHA Control of Hazardous Energy Overview
OSHA Fact Sheet – Lockout/Tagout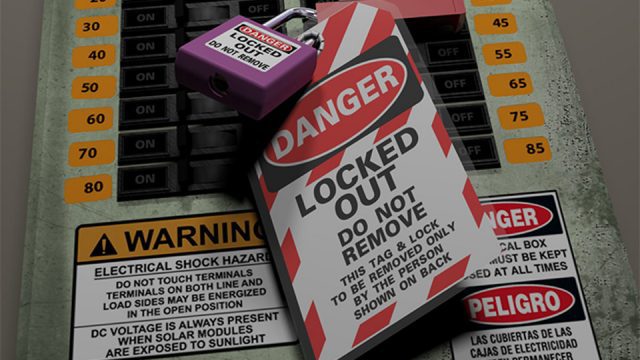 Other Courses You May Be Interested in