Online Chainsaw Operator Safety Certificate Course
Chainsaw Safety (OSHA) Online Course
Operating a chainsaw is extremely dangerous, even in normal working conditions. Safe usage should be of the highest importance to employers, managers, and employees. This chainsaw safety training OSHA course covers basic chainsaw safety relating to tree falling, tree trimming, disaster clean-up, forestry and more. The chainsaw safety training course is compliant with rules and regulations set by the U.S. Occupational Safety and Health Administration and recognized by the I-CAB (International Competency Assessment Board).
Learn Safe Chainsaw Use and Maintenance in this OSHA-Compliant Course
In the Chainsaw Safety (OSHA) Online Course, you will learn:
Safety Requirements When Handling a Chainsaw
Personal Protective Equipment Requirements
Anatomy of a Chainsaw
Mechanics of the Chainsaw
Inspection of the Chainsaw
Proper Method of Felling Trees
Cutting Techniques
Hazards Associated with Chainsaws
Duration
The Chainsaw Safety Online Course takes approximately 60 minutes to complete.
Testing
Participants in the Chainsaw Safety (OSHA) Online Course will be assessed by a test after viewing the course material. Participants must achieve a mark of 80% or higher to earn their certificate of completion. Those who do not reach the required mark will be allowed to repeat the course two additional times. Printable resources are available in the form of a comprehensive student manual.
Certificate of Completion
Participants who successfully pass the Chainsaw Safety Online Course will earn a chainsaw safety training certificate of completion, which they can print out or download for their records.
Which Personal Protective Equipment (PPE) is Required When Operating a Chainsaw?
Employers must provide and ensure workers properly use PPE, including:
Head Protection, such as a Hard Hat
Hearing Protection Sufficient to Reduce Noise Exposure to 90 Decibels or Fewer
Eye/Face Protection, such as Safety Glasses
Appropriate Protective Footwear per OSHA Standards
Leg Protection, such as Work Pants or Chaps
Work Gloves
Fall Protection as Necessary
More Information:
Chainsaw Safety (OSHA) Online Course video preview
OSHA Chainsaw Safety Fact Sheet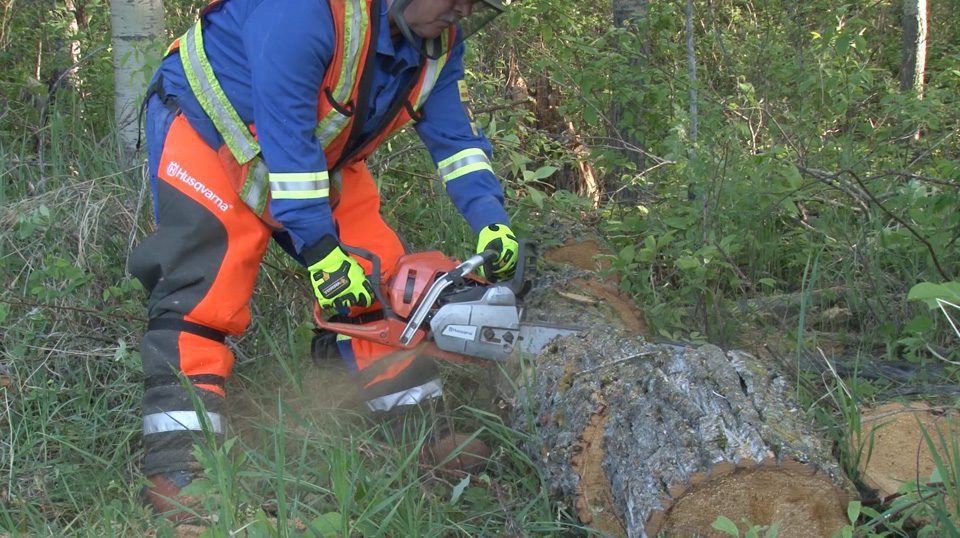 Other Courses You May Be Interested in