Tree Trimming Safety Course
This online Tree Trimming Safety Course covers safety precautions for tree trimming projects. When tree trimming you may be required to use hand and portable hand tools such as chainsaws, loppers, trimmers to make the required cuts. Aerial lifts may be required to elevate workers to the required heights. All of these tools have the potential to be extremely hazardous. Workers performing these dangerous operations require Tree Trimming Safety Training to help keep themselves and those around them safe.
Tree Trimming Safety Course
Tree Trimming Safety Course: Outline
Equipment Descriptions
Safe Operating Practices
Identifying Electrical Hazards
Identifying Fall Hazards
Weather and Environmental Factors
Safety Around Animals and Plants
Traffic Awareness
Equipment Operation
Tree Trimming Safety Course – Tips
Ensure you have proper training on the safe use of any equipment you are using. There be regulations in your area that require specific training for tree cutting and trimming.
If you are required to use an aerial lift or bucket truck, you must be trained in the safe operation of this equipment.
Prior to any tree trimming, you must inspect the entire area to identify potential hazards like power lines, cracked or broken tree limbs and take the necessary actions to avoid and prevent incidents or injuries.
Always assume that any nearby power lines are live or energized. You must not have any contact with a power line until the local utility company has verified that the line has been de-energized.
Always partition off the area around where the tree cutting is taking place to prevent pedestrian or bystander access.
Always work with another person who remains on the ground to act as a safety contact and to keep people away from the immediate area.
Understand how to recognize trees that may be weakened by disease, and know the various types of trees that are susceptible to cracking.
Always inspect and test the tree limbs for strength before climbing. Look for holes in the tree, dead branches, cracks in the trunk or where the trunk meets the branches, or loose hanging branches in the tree.
You must be trained in the proper use of fall protection and ropes and you must inspect this equipment prior to every use. If you find any defective equipment you must remove from service and have repaired according to the manufacturers requirements or destroyed and properly disposed of.
When using a ladder, ensure it is tied off to a secure branch prior to using. Ladder safety training is also recommended.
Remove obstacles such as small dead branches by hand as you climb. You can remove any larger branches with the proper tools.
When climbing, place your hands and feet on separate limbs and only move one hand or foot at a time.
You can lower or raise tools by attaching hand lines or ropes to the end of tools. You can also lower or raise smaller tools in a bucket attached to a hand line or rope.
If you are working near powerlines, only use non-conductive tools and personal protective equipment.
Always make sure you can see the cut you are making so you do not accidently cut your ropes, or handlines.
Always attach a leather or carbon fibre guard on any saws that are held by a ring on worker's belt.
Never use dead branches for support.
Never climb a tree when in wet or icy weather or under high wind conditions.
Never leave a partially sawn limb on a tree.
Never carry chainsaws, pruners and other tools in your hands while climbing.
Never use axes or hatchets when working up in a tree.
Regularly inspect ropes for any flaws or nicks along the entire length of the rope.
Always slide ropes slowly over or between limbs to prevent wear damage.
Always keep your ropes coiled when they are in use.
Ropes should be stored in dry containers and protected from the weather elements.
Safety lines must never be used for lowering or raising equipment or tree limbs.
Never approach a fallen power line.
The local utility company must be contact prior to tree trimming near power lines to arrange for service stoppage or other safety precautions.
Understand the required minimum working distance allowed from energized (live) power lines.
Always use a pull rope to stop branches from falling near power lines.
Only use non-energy conducting tools and equipment.
When using a pole pruner, make sure the cutting head is connected to the lever at the lower end of the pole with a polypropylene rope. Do not use wire or chain.
PPE – Personal Protective Equipment
Only use industry approved safety belts, harnesses, lifelines, and leather gauntlet gloves.
Only wear industry approved head and eye protection and only use footwear with slip-resistant soles.
Only wear close-fitting and long-sleeved clothing.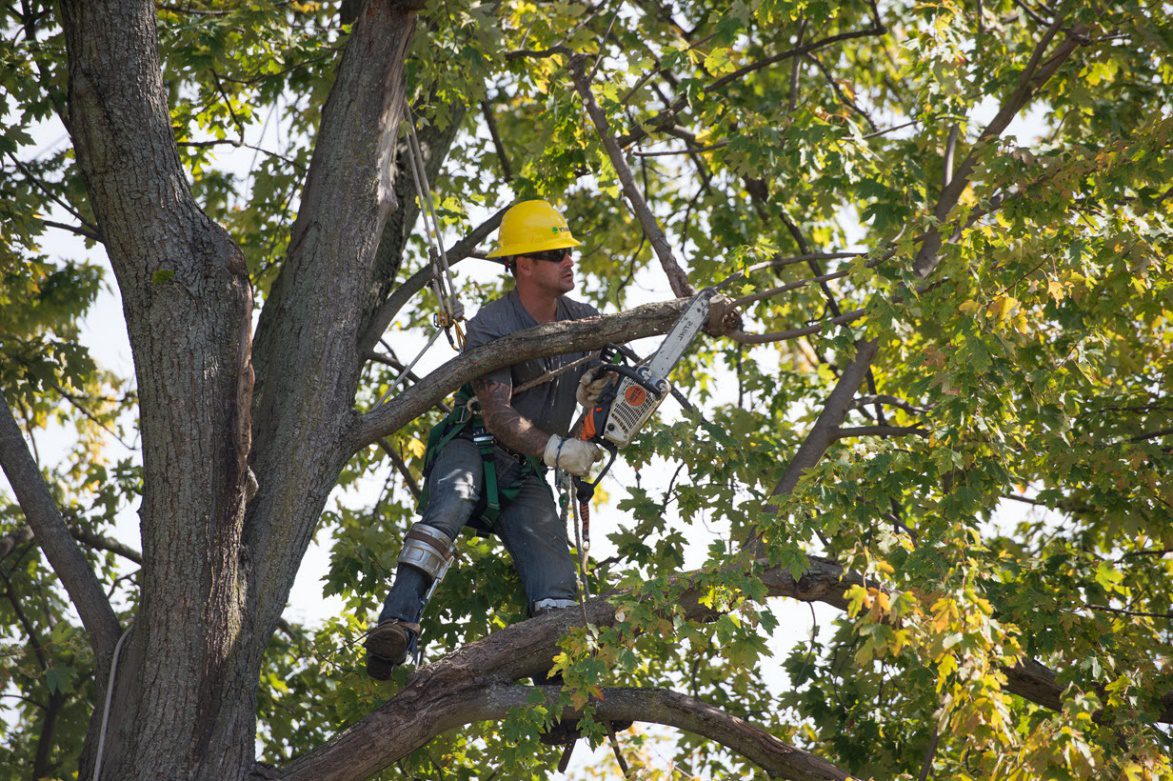 Other courses you may be interested in