Train the Trainer Aerial Lift Course
This Train the Trainer Aerial Lift Course is an OSHA compliant program and contains all necessary teaching materials to help you effective teach this program to your employees. Scissor Lift Train the Trainer Course is a comprehensive course that will teach you how to train your employees on how to use a scissor lift. You will receive everything you need to offer your own in-house training. All material can be reused and customized to meet any specific teaching scenario. Included in this Train the Trainer Aerial Lift Course are files for the main PowerPoint presentation, participant manual, tests and answer keys, pre-shift checklists, safety poster, safety standards, completion certificate and wallet card templates, accident examples suitable for toolbox meetings and classroom teaching.
Train the Trainer Aerial Lift Course
The teaching modules for this Train the Trainer Aerial Lift Course is presented in two sections:
Section 1:
Adult Learning Principles
The Responsibilities of the Trainer
Effective Record Keeping
OSHA Safety Standards
Effective Classroom set-up
Effective Use of Training Materials
How to Customize Training Materials
Section 2:
Aerial Lift Introduction
Equipment Anatomy
Machine Stability Concepts
Safe Machine Operation
Safety Hazards
Course Conclusion
Final Exam
Safety Tips: Train the Trainer Aerial Lift Course
Confirm that anyone operating an aerial lift is properly trained and certified.
Confirm that your employee's certifications are current and that they understand the manufacturer guidelines for each Aerial Lift or Scissor Lift they will be operating.
Review every part of the vehicle and the lift prior to operation. This includes checking fluid levels including oil, hydraulic, fuel and coolant. Also check to ensure the proper function of the battery, charger, wheels, tires, horns, lights and backup alarms.
Check all systems like hydraulic, air and electrical systems are functioning along with all operating and emergency controls. Search for any loose or missing parts, missing or unreadable operational or instructional placards or markings. Also conduct a lift test to ensure everything is functioning properly before loading any personnel or supplies on it.
Inspect the surrounding work area for any hazards.
When working indoors, always consider the ceiling height to ensure it is appropriate height and locate any potential overhead hazards. Also examine the floor and surrounding area for unstable surfaces, holes or any other possible obstruction.
When working outside, view the surrounding area for any drop-offs, holes, ditches, slopes, debris and other possible obstructions that should be cleaned up or avoided. Also locate any nearby overhead electrical lines and communication cables. Always treat overhead powerlines, wires and other conductors as energized, regardless if they are down or appear insulated. If you can't completely avoid power lines, you should stay at least 10 feet away to prevent possible accidents. You should also avoid positioning any aerial lifts between powerlines or other overhead hazards if possible.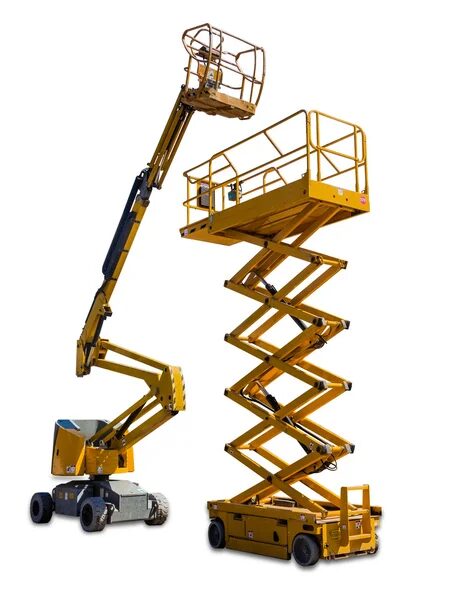 Severe weather conditions and high winds are other major hazards to be aware of as the aerial lift can tip over and endanger your workers and anyone nearby.
Never override hydraulic, electrical or mechanical safety features for any reason.
Scissor Lift Train the Trainer Course
Always take the time to calculate weight before loading and operating an aerial lift and consider the combined weight of the operator and any tools or materials. Always stay within the manufacturer's weight limits to avoid possible tip overs. Reach limits must also be followed for this same reason.
Never sit or climb on the aerial lift guard rails. These guard rails are meant to protect the operator from falling. Failing to follow this rule will put the operator at risk of falling and could cause a possible machine tip over.
Outriggers and brakes are designed to add a layer of stability to prevent any unexpected shifts in the ground or the lift and should be used even if the ground seems stable at first glance.
Wheel chocks are essential for ensuring your lift stays in place when working on inclines.
Never move a scissor lift in an upright position. The operator must completely lower the scissor lift before moving unless otherwise stated by the manufacturer's manual. Moving a scissor lift when it is elevated can cause the machine to tip over.
Always wear a full-body harness or restraining belt. Always ensure you are properly secured before moving the lift.
Never use an aerial boom lift to lift overweight objects or supplies. These lifts are designed to lift people and tools, refrain from loading it with any weighty objects or supplies.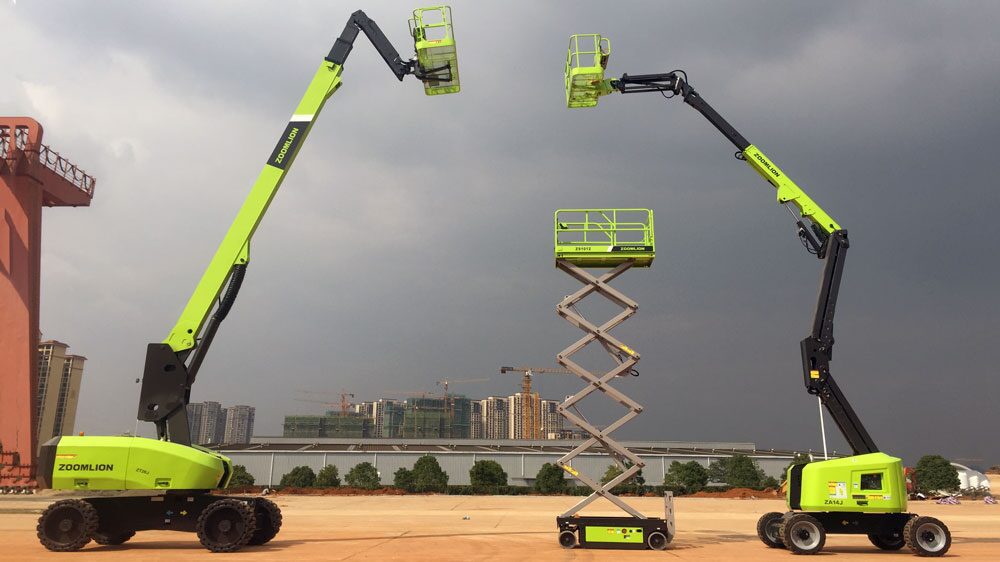 Other courses you may be interested in