Propane Handling & Exchange Course
Certify your employees to safely handle propane fuel tanks used in commercial and industrial settings. This Online Propane Cylinder Handling Course is consistent with OSHA 1910.110 Storage and Handling of Liquified Petroleum Gases Code in the United States and will provide certification for handling and exchanging propane cylinders safely. This course will certify that participants will understand the components of a propane cylinder, the science behind propane use and storage, safe usage, and the legal requirements to work with propane.
Propane Handling and Exchange Online Course
This Online Propane Cylinder Handling Course teaches the following:
The Chemistry of Propane
Components of Vapour & Liquid Propane Withdrawal Systems
Personal Protective Equipment
Cylinder Inspection, Handling, and Exchange
Safe Transport & Storage of Propane
Emergency & First-Aid Response
Our Propane Cylinder Handling & Exchange Online Course offers the latest information on all these topics.
Propane is a fuel that most of us are familiar with. It powers barbecues, burners, heaters, torches, and various industrial equipment. But how many of us are familiar with the hazards it presents?
When a product becomes commonplace, it can be easy to forget how hazardous it can be, particularly on a work site. That is why, when working with propane, there are laws and standards in place that are designed to keep you and those around you safe. While the specific regulations differ between provinces and states, one consistent factor is the requirement that a worker be competent in any work undertaken. Being competent means you:
Are qualified because of knowledge, training, and experience to perform your assigned work safely
Are familiar with the health and safety regulations of the province, state, or territory you work in
Have knowledge of any potential or actual danger to health and safety in the workplace
This course is designed to improve the competency of workers in order to help them meet the requirements of the CSA B149.2 Propane Storage and Handling Code in Canada and OSHA 1910.110 Storage and Handling of Liquefied Petroleum Gases Code in the United States.
By the end of this course, you should be able to:
Identify characteristics of propane as well as its various hazards and their control methods
List the components of both vapour and liquid withdrawal systems
Outline the steps for inspecting propane cylinders and testing for leaks
Describe requirements for transporting, handling, exchanging, and storing cylinders
Outline emergency response and first aid procedures as they relate to propane incidents
Information in this course will be presented in 6 chapters:
Chapter 1: Propane Basics
Chapter 2: Propane Withdrawal Systems
Chapter 3: Cylinder Inspections
Chapter 4: Transporting, Handling and Exchanging Cylinders
Chapter 5: Storing Cylinders
Chapter 6: Emergency Response
Duration
The Propane Cylinder Handling & Exchange Course takes approximately 1hr 30 mins to complete.
Testing
Participants in the Propane Cylinder Handling & Exchange Course will be assessed by testing throughout the course. In pursuing an online propane handling safety course, the participants must achieve a mark of 80% or higher to earn their certificate of completion. Those who do not reach the required mark will be allowed to repeat the course two additional times.
Propane Certification of Completion
Participants who successfully pass the Propane Cylinder Handling & Exchange Training Course will earn a certificate of completion, which they can print out or download and keep for their records. The certificate is consistent with OSHA 1910.110 Storage and Handling of Liquified Petroleum Gases Code in the United States.
Your certificate is valid for 3 years.
How Do You Safely Handle a Propane Cylinder?
Propane cylinders are portable containers that are generally used in the home. Propane tanks are typically more permanent and have more storage.
Cylinders must be inspected every 10 years. Markings on the collar of the cylinders can tell you the date of manufacture and inspections since then.
Do not throw your tank in the trash. Contact your local recycling coordinator to learn if it is acceptable at your local transfer station or Household Hazardous Waste Collection. There are also local tank companies who will accept tanks and recycle them at no cost.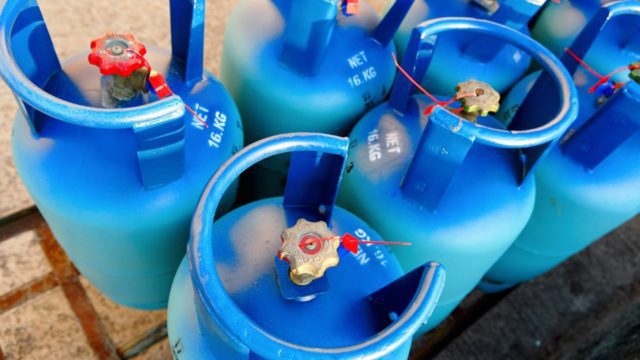 Other Courses You May Be Interested in