Telehandler Training Online
This Telehandler Training Online course teaches the competency needed to operate a telehandler (also called a telescopic handler) safely, while maintaining proper control of the equipment and complying with the laws governing its operation. Upon completion of this telehandler training online course, you will have learned the legislated responsibilities of a telehandler operator, how to identify telehandler components and their functions, how to travel and handle loads safely, and much more.
This course provides the theory training and certification for anyone operating a Class VII Telehandler. The telehandler training online course is designed for employees who operate telehandlers in the workplace and are to acquire or renew their license.
With this Telehandler Training Online course, you will learn:
Machine hazards
The importance of the operator's manual
Legislative requirements
Safety symbols
Machine components, controls, brake types, and safeguards
Load capacities
Balance and stability principles
Proper use of load charts
Pre-operational inspections
Maintenance
Hydraulic system dangers
Hazard assessment and risks
Safe travelling techniques
Steering modes
Loading/unloading lifting techniques
Refueling, parking and shutting down
Site inspections
Safety Tips for Operating a Telehandler
Take a certified training course before operating a telehandler. Increase your safety by being familiar with the machine you'll be working with. Review the operator manual of the telehandler and understand all safety symbols and instructions.
Conduct a daily visual and functional inspection before you operate the equipment. Follow the operator manual for all procedures.
You must ensure that the load does not exceed the maximum weight. Any excessively heavy load can cause the telehandler to tilt or tip over. Most telehandlers are equipped with a safety system, which prevents the lifting of loads that are heavier than allowed. You can find the maximum weight of your telehandler in the operator manual.
You must not get distracted while driving. Make sure that the view of your path is always clear. If you are unable to look more than 6 ft beyond your load, it is recommended to drive backwards. Also do this when you're carrying unstable loads or pallets that can slide off the forks.
The distance between the ground and the forks or attachment always has to be 12" when driving a telehandler. When transporting a load, keep it +/- 12" above the ground and always tilt the fork carriage backward. Be aware of the fork height on uneven surfaces and adjust it if necessary. When moving loads across larger distances, the telescopic boom must always be retracted.
Telehandlers can reach speeds of up to 25 mph, but you must adjust your speed to the workplace environment. When turning, centrifugal forces will occur, which means the load is being weighted to the outside of the turn. Always go up or down slopes in a controlled way and at an appropriate speed.
Always drive straight forward when going uphill and never turn on a slope. When loaded, the load must be in the highest position in relation to the slope (forwards uphill and backwards downhill). On slopes you must increase the fork height and lean the load backwards, to prevent contact with the ground.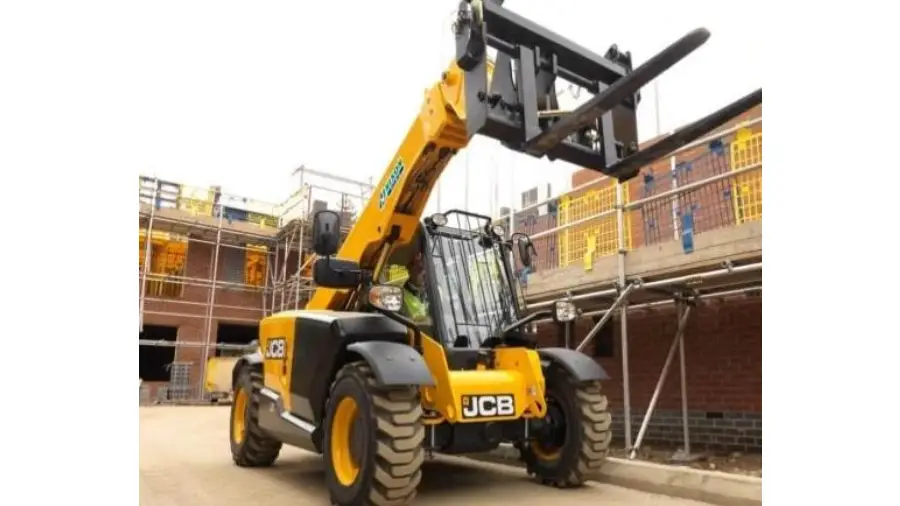 Other Courses You May Be Interested in